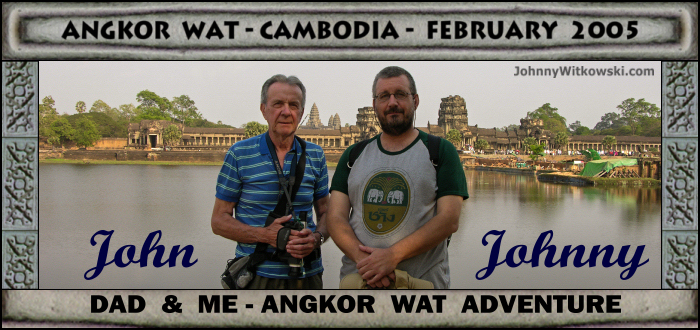 Welcome to my newest update Dad & Me in Angkor Wat. Over the years, I've published bits and parts but now finally have the full story in one place. The centerpiece of this update is my brother David's documentary style video mixing Dad's videos, my photos, that he organized as well as narrates.
Or click the following link to view this video.
JohnnysJazzJoint Cambodia
https://www.youtube.com/watch?v=aRSsfSp3jws

Mom & Dad first came over to visit me in Thailand in the late 1990s when I lived on Koh Samui, Thailand third largest island. It was a great visit mostly Koh Samui and also Chinatown Bangkok and Chiang Mai up north. Capping off their Asian visit we visited my old stomping grounds in Seoul, South Korea. A great visit enjoy by all of us. Although Mom enjoyed the visit, Dad's interest was sparked with the basic "back-packer" style of touring a country. As Dad said, the concept of a backpacker didn't come about til after I was a young guy.
After Christmas and New Year, Mom shopped for an air ticket and shipped Dad over for more backpacker style travel. Dad and I enjoyed touring throughout Thailand from Koh Chang, Thailand's second largest island up to northern Nong Kai on the banks of the Mekong River. Crossing over the Mekong is Vientiane the capital of Laos really more like a small to medium town. Ain't nothing better than knocking back a few cold Beerlaos on the banks of the river watching sunset over the Mekong and Thailand in the background.
Thai's northern most city is Chiang Rai near the borders of Laos and Myanmar (formerly Burma.) From the small town of Mae Sai, Dad and I were able to enter Burma for a few hours of shopping, food sampling and excellent beers. Another travel highlight with Dad was our three-weeks touring Vietnam. Starting off in Saigon (Ho Chi Minh City) stopping in along the way at popular destinations until we finished up in Hanoi.
For our Angkor Wat trip, we had the max seven day passes. Recommended in articles I read, we were well satisfied with our taxi driver that picked us up at the airport and hired him to be our daily driver. Temps and intense sun was more than we expected and having an air conditioned car waiting was really appreciated. The hats and scarfs we had were necessary for protection from the extreme sun.

Siem Reap is the town just outside the Angkor Wat temples area where all the hotels, restaurants, bars and businesses that support Angkor Wat are located. Electricity service in Siem Reap was fine but not far outside – rare if ever. You can see the small shopping baskets (in one photo) at a local market. Needed daily shopping without any home refrigeration. Included are some favorite pics from Siem Ream.
The highlight of this report is our documentary style video on Angkor Wat. Many thanks to my brother David for massive organizing and editing and narrative of Dad's videos, my photos and putting together this great project. Please take time to have a look. Click Link Below:
JohnnysJazzJoint Cambodia
https://www.youtube.com/watch?v=aRSsfSp3jws
Until next update, stay safe & well and get out and enjoy life. – – Johnny