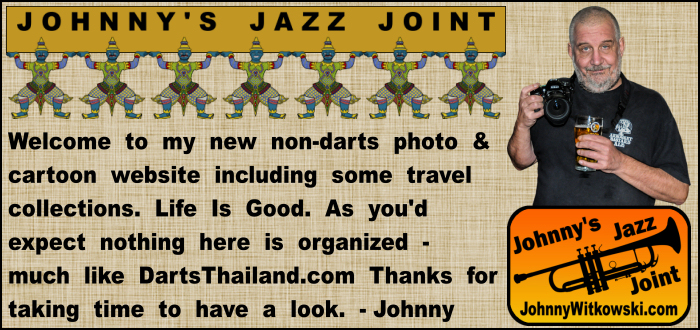 Welcome to my newest attempt at a Johnny's Jazz Joint website. This site focuses on my non-darts photo & cartoon collections. DartsThailand.com is still alive – going & growing. Please visit DT whenever you have the time.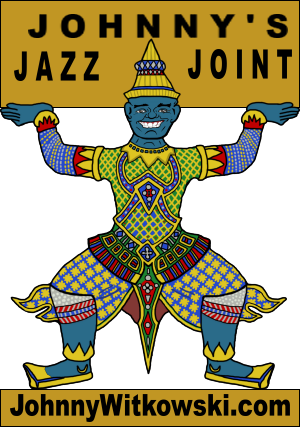 Johnny's Jazz Joint – JJJ – is partially a result of my brother David's challenge to me that my Nikon cameras are capable of more than just darts and bars. Of course, I found this assertion most difficult to believe. But I took up the challenge and here are my non-darts and cartoon collections. Not pro level photography – but some of the great places around the world that I have had the opportunity to visit.
Yes, you may notice that 'some' of my reports are not exactly new or current. But they are still relevant, true to what is happening today. So, am I not a habitual procrastinator? Yeah, okay maybe but I live by the motto – better late than never.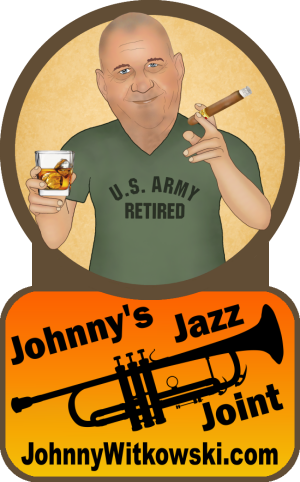 I enjoy drawing cartoons. Not going to bore you with all of 'em – but in this report I will feature some of my traditional dress Thai gals. BTW these cartoon gals are laid over my own photos – first four pics from Cambodia and fifth from Koh Chang, (Island Elephant) Thailand's second largest island. Future reports will be mainly photos – only a cartoon or two.
Oooh, hear a cold beer calling me. Thanks for having a look and will have next report posted soon. BTW 'same-same' the usage of the word "soon" in Thai. Ask your repairman when project will be finished – soon – oh yeah sooon . . . Johnny