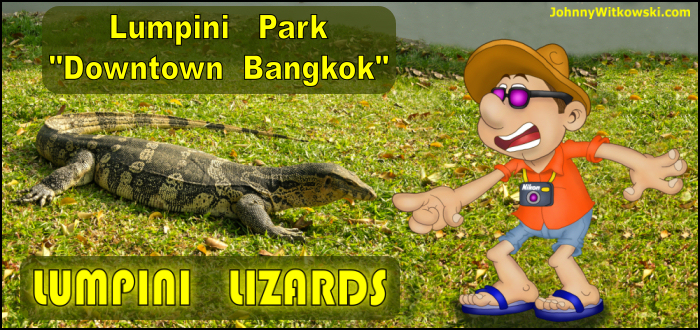 Monitor Lizard refers to a type of lizard common in Asia. Lumphini Park is home to a subgroup, the so-called "water monitors". Their size is between one up to three metres (3 to 9 feet). They have become a major attraction and visitors come to Lumphini Park to spot the "dragons".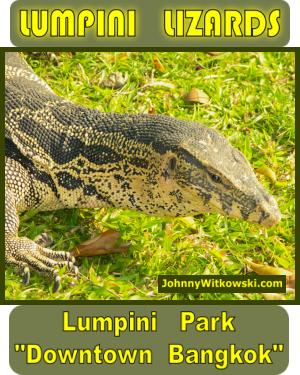 First time I spotted one of these lizards was from a distance in Lumphini Park, as it was sunning just out of the water. I was not then aware of these lizards and as it was so large, thought I was looking at a crocodile. Until I got closer and saw the narrow snout did I realize it was just a huge lizard.
Park officials told the 'Bangkok Post' that the population of lizards, who have long made Lumphini Park their home have soared out of control. No big surprise or great ecological mystery here. With no predators to threaten them and an abundance of fish as fishing is prohibited, lots of turtles, plus so much food left behind by visitors to the park – Lumpini lizards are fat & happy. These lizards are not "picky eaters." Estimated 400 plus monitors are residing in the park's ponds and canals. Why not? Rent free in the mist of one of Bangkok's highest rental areas.
Lumphini Park is the first public park in Bangkok and Thailand. It's got more than its lizards as a centre city attraction. This park is well worth a visit while in Bangkok. An additional attraction – WAS – just across the Witthayu Intersection – the Suan Lum Night Bazaar.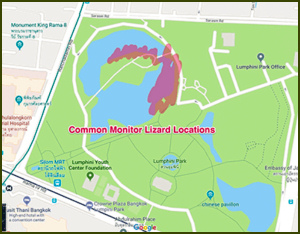 Suan Lum Night Bazaar was a great way to cap-off the day after a visit to Lumphini Park. With lots of attractions along with many great food venues and live music venues with cold, refreshing drinks – this was a great, affordable downtown location. Now gone and replaced with ultra modern business structures. Yup, just business as it goes as Bangkok continues to expand.
Closing out this article, I'd like to share with you a great video I found online of a monitor lizard doing some shopping at a local 7/11 convenience mart. Been told that same-same as my shopping etiquette . . . !
Two Metre (6-Foot-Long) Monitor Lizard Climbs 7/11 Shelves #Shorts
https://www.youtube.com/watch?v=Ygo4jUNuvqA
Thanks for having a look – until next report – – – Johnny