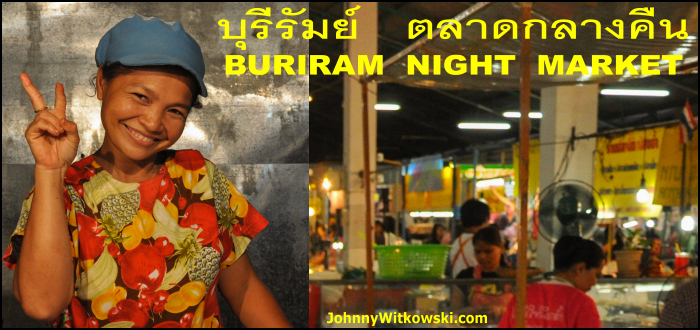 Off to Buriram with long-time friend Jake. His gal, the lovely Miss Pookie, already there, ordered our bus tickets from 7/11. From any Bangkok 7/11 with the code – our tickets from the register were printed. The deluxe bus had more space and leg room than any typical plane seat plus saving more time of travel to and from airports.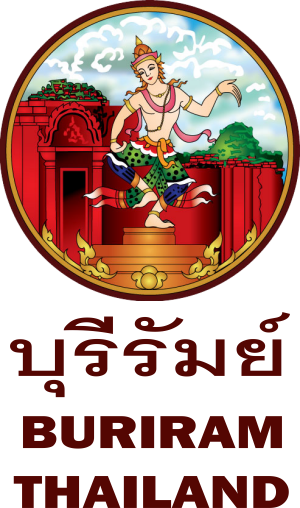 Buriram (literally the pleasant town) is one of the smallest provincial capital cities in Thailand's seventy-six provinces. Buriram City is about 300 km (186 miles) northeast of Bangkok. This northeast area commonly known as "Isan" consists of 20 provinces and is Thailand's largest region.
Thailand's Isan area is on its boarders with Laos and Cambodia. Once part of the Khmer Empire there is still a large influence on Isan's overall language, culture, tradition and most importantly cuisine – Isan Food. More on the exceptional Isan cuisine to follow.
Buriram's Night Market is located in the happening center part of the town near the ancient moat or as the locals call it "Lalom" – more than 1800 years old. As the sun goes down the vibe is more like a small village. Many young folks, some far too young to legally operate a motor bike, pile on these bikes just to cruse around town. And a major attraction is the Night Market.
Unsure how I would be accepted with me large Nikon camera hanging off my neck as I approached the Buriram Night Market. I received such a pleasant welcome, more than I could have ever imagined. If I missed a seller, they'd shout me to come back as they proudly posed with their business. A great time photographing friendly Thai families working at their night market stalls.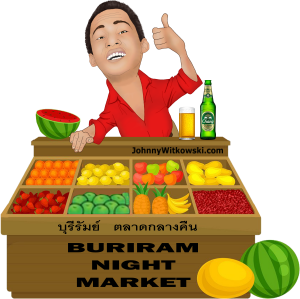 More from this Buriram visit in the future. Got to see so much as I stayed longer than originally planned. Thanks to Pookie & Jake for their hospitality. The people and rural countryside of upcountry "Isan" – truly amazing.
But after so long with clean air, no unending traffic jams or excessive noise or total chaos – one naturally gets homesick. "Toto, I've got a feeling we're not in Bangkok anymore." … "There's no place like home – There's no place like home." Ah, back in Bangkok, life is good.
Thanks for having a look at my adventure in Buriram's Night Market. And hope you will follow me on my next issue. Stay well and look forward to seeing you next time. – Johnny