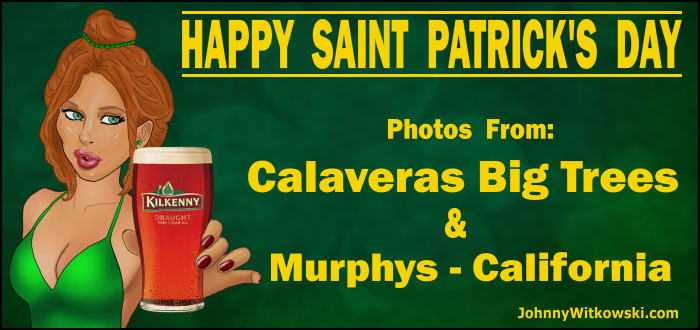 Some years back I was visiting in California. Had a great day trip with my sister Elaine and her husband Stan and brothers Gary and David. Missing was brother Mark and his wife Michele. We visited two popular destinations – Calaveras Big Trees State Park & Murphys, California.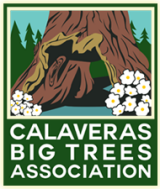 "Walking In Awe Among Giants." These words perfectly describe the spectacular giant sequoia trees of
Calaveras Big Trees State Park. These are the largest trees in the world that were first discovered here. A major tourist attraction since 1852, when the existence of the trees was first widely reported, and is considered the longest continuously operated tourist facility in California.
Photography challenge, wow, too close and can't get it all in one shot. Move further away and thick forest of trees block your intended target. Light contrast – tree canopy provides shade contrasted by bright sun streaming in-between. Best size contrast is to shoot with people at tree base to show comparison. Hard work, think I need a beer.
Murphys' rich and colorful past came alive in 1848 when John and Daniel Murphy established a trading post and gold mining operation in the area that is now their namesake. John and Daniel Murphy earned a living as merchants, but like many others, began prospecting when the California Gold Rush began. The Murphy brothers themselves, however, made far more money as merchants than as miners.
Murphys Historic Hotel established in 1856 is one of California's longest operating hotels. Centrally located in California's gold country in the middle elevations of the Sierra Nevada and only 150 miles from San Francisco. Notable guests who stayed at the Murphys Hotel during its early years include Mark Twain and former President Ulysses S. Grant.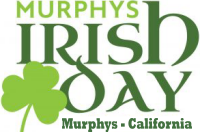 As a student of history, I enjoy visiting historical landmarks and museums. Murphys Hotel is acknowledged as a California Registered Historical Landmark & National Register of Historic Places by the US Department of the Interior. "PLUS" – it has a Great Bar with excellent selection of Draught Beers. Promote the Study of History – Put Bars in Museums. Enjoyed my visit and historical pics seen here are my photos of photos on their wall.
Calaveras Big Trees & Murphys CA are great places to visit if you have the opportunity. Murphys is very much like Irish Day Everyday. How many other towns have a huge Irish Shamrock painted on the middle of their center of town intersection – Slainte !
Finished off the night at Rio City Cafe on the Sacramento River in Old Town Sacramento. Was a great day out with my siblings. Look forward to more outings . . . – Johnny