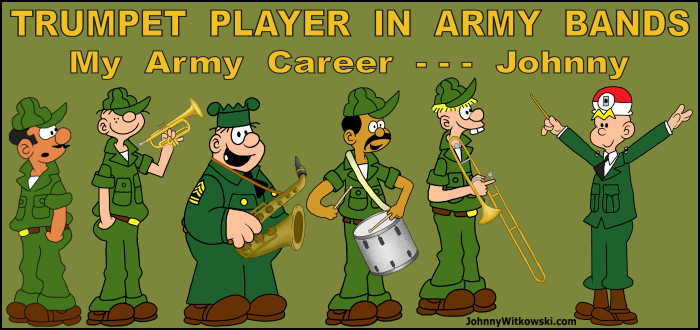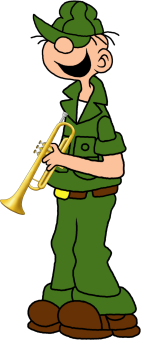 Welcome to my newest update – Trumpet Player In Army Bands. Many of you, know that I'm retired army, others may not as we only interacted playing darts or here online mostly darts sites. I joined the army at age seventeen and after basic training and music school I was assigned to my first army band. Everyone knows army bands provide marching bands for parades and military ceremonies. But there is so much more including concert band, big band or show band plus many more ensembles from classical to jazz to country. That's my brief overview of army bands.
Is this my entire collection of photos over my army career. No, but all I seem to have available now. In addition to my pics are some shot by my parents, some official photographers and some by my ex-wife who was handy with her camera. All of the photos here are scanned pre-digital film pics, so many were faded, scratched and yellowed. Using post-processing photo programs, I've done my best to get them back to original condition.
I haven't named or tagged anyone as I am not sure how you may feel about this. However if you wish to tag yourself – have at it. And copy any pics that you want a copy. I suggest that you copy photos from my (johnnywitkowski.com)website for best quality pics. FB reduces size and resolution that I have no control over after posting.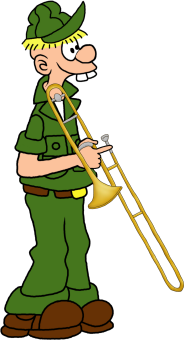 Beetle Bailey is an American comic strip created by the late, great cartoonist Mort Walker. As you may have noticed, I really enjoy my hobby of drawing cartoons. Couldn't think of a better comic strip to enlist into an army band. Hope you enjoy my adaption of Beetle and crew as army bandsmen.
First featured band is the 19th Army Band, Fort Dix, NJ. Originally no plans of an army career, but being a professional procrastinator, I kept reenlisting. Ended up spending ten consecutive years in the 19th. Was trying to transfer to Korea with no luck. Came up on orders for transfer to Germany but was able to turn-down these orders with a one-year lock at current assignment. Was advised that the army will punish me for this. They did. After my one-year lock expired, I received orders for 2ID Band, South Korea where I had been trying to go for nearly six years. Only in the army . . .
My time in the 19th Army Band was the best for my musical development. Learning from excellent talented of some within the band to the army education support to study with some of the top players in NYC & Philly – it was a great experience. I served with some great folks in the 19th, musically, socially, beer drinking and even playing darts . . . !
When I first arrived in Korea, I had a feeling that Asia would be my home. Spot-on, as I've now lived more than half my life in Asia. I found everything in Korea exciting, new sights, sounds and most especially the cuisine. After many years, I finally had enough of the one thing I do not like about Korea. I hate Korean winters. Even after many years in Thailand and loving their great food, Korean food is still my #1 favorite. And yes, of course I always have a jar of kimchi in my fridge.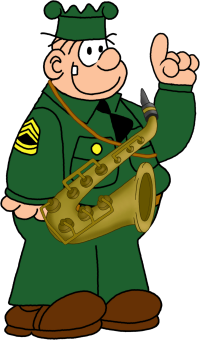 Second Infantry Band assignments were only for one year. It was an unaccompanied tour and a hardship for the married folks. Being able to extend that tour, I was able to stay for five years. I met so many people during this time with the regular one-year rotation. You got to know people better, spending more time together especially time spent in the field (camping).
282nd Army Band in Fort Jackson, SC was my retirement assignment. After retirement I was headed back to Asia, planned destination Chiang Mai, Thailand. Got as far as Seoul, Korea and after a "few"beers signed a one-year work contract. Ended up staying for seven years when I finally had enough of cold winters. I had a great army run, meeting and serving with some great people. Still do have a great experience, meeting and knocking back a few beers with more great people – darts people !
Until my next report – stay safe & well – Johnny