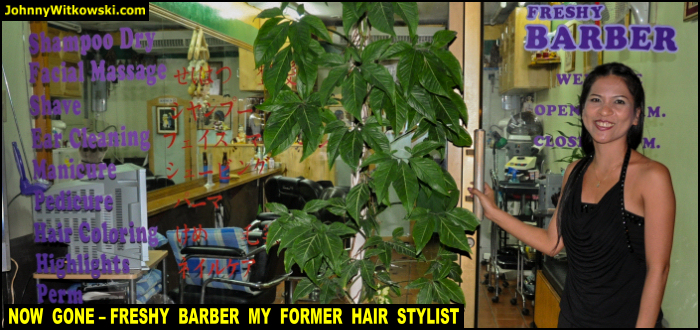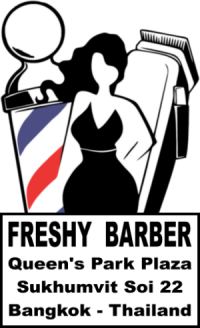 Greetings from Bangkok. Always pleasant here, now Tuesday 29 Nov, just after lunch with current temp – an enjoyable (34 C / 93 F) under partly cloudy skies. Always have a great time viewing your snowfall pics from the States, especially recent pics from the Buffalo, NY area. Seems to boost ice-cold beer sales here whilst viewing these pics! Go figure ?
Having my hair styled just right has always been a major concern for me. Oh yeah, the perfect cut, just so. After years of different hair shops I finally discovered
a virtual hair styling oasis right in Queen's Park Plaza – my regular go-to for darts pubs & watering holes. Miss Freshy's Shop was next to Oat's Bar – a really late-night bar with a great Jazz Music library and BKK's most extensive TOP (Tower Of Power) library.
Miss Freshy saw me at Oat's Bar, enough to notice my 'Special Super Power' – my ability to very quickly drain a bottle of beer. When I went into her hair saloon for my first styling, I had no problem with the price. But I did offer her the challenge that she finish my cut before I finish my bottle of beer. If not – no generous tip would be forthcoming. What a gal – three and a half years and she never missed a tip.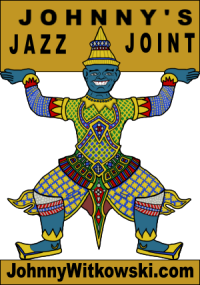 Always got the same cut – a number zero cut. Ah not only my hair, but beard as well. Yep the Full Monty – a number zero cut over my whole fat head. Miss Freshy ran an excellent operation. Had to laugh on my first visit. After finishing my cut, her assistant gals led me to a lay back sink to "wash" my hair. Okay, so I let them shampoo my scalp but, had to stop them before they tried to add conditioner?
Thanks for having a look at my photos of my former 'hair stylist saloon' Miss Freshy Barber. Really miss my days at Freshy Barber and all of the great pubs & bars of Queen's Park Plaza. BTW nowadays I style me own hair. Got my own clippers. Have offered others my own creative hair styling expertise. But always the same response – "stay away from me" !
Until next report – stay happy & well. – Johnny